What you are about to read will feel uncomfortable. It will scare you, and it will open your eyes. Imagine that you purchased your horse when it was three. Now, your horse is 11, and has had a brilliant career as a show jumper. Never been lame or had any health issues at all. But for the past months, the horse has been stiff, and lame in periods. First, it was the right hind leg. Then the left one. Behavior changes and refusal to canter. The symptoms are vague, and the vets don't know what the problem is. Six months later, your best friend and partner is put down. He suffered from a little known, deadly disease called DSLD/ESPA. Every horse owner's nightmare – and a disease you should know about.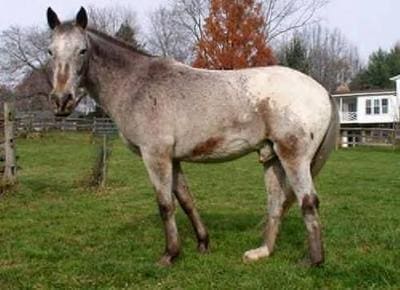 DSLD/ESPA: Let's fight this horrible disease together
I know I have a rare opportunity to reach out to a large amount of people. Last year, my blog had 80 000 visitors within 24 hours. If I could reach out to that many people with this blog post, we might be able save the lives of many, many horses in the future. First of all by spreading the word: this can happen to your horse, or your friends, or a horse at your barn! Having information about the disease can spare the horse from much suffering, and give it a longer and happier life.
As many of you already know, Batman has been struggling with weak suspensory ligaments. We discovered the problems last spring. It was the most painful thing happening to me so far. His symptoms looked very similar to the horrible, and so far little known systemic disease called Degenerative Suspensory Ligament Desmitis/Equine Systemic Proteoglycan Accumulation. More known as DSLD/ESPA. (You get used to pronounce it after a while, I can assure you that). The vets did not mention anything at first, I found the diagnosis on Google. The vets agreed to check it out, as the symptoms looked a lot like it. We ran multiple tests and it took months to gather the information needed. MANY months. Imagine waiting for the answer regarding such a severe disease – it was horrible! After collecting x-rays, doing multiple general checks, blood samples, ultrasound + a biopsy of the nuchal ligament, we had more information. But still, you can understand how diffucult it is to diagnose! Right now, we are still not 100% sure if Batman is suffering from DSLD/ESPA at an early stage or have a genetic exterior weakness. It is hard to tell. At this point, the experts agree that it seems less likely that Batman suffer from DSLD/ESPA.
But not one horse owner in the world deserve to go through the nightmare I went through last spring. I cannot describe the pain. It was not like a normal injury, you will not return with a plan for rehabilitation. All you can do is to search for information and do your best to keep it stable. And that's a huge amount of work, because the disease is so little known among vets. Batman have had symptoms on DSLD/ESPA for almost a decade without anyone noticing. And he is not alone!
If a horse suffer from DSLD/ESPA, it will propably die from it. It is extremely painful knowing that there is no cure. For all the hundreds, thousands of horses without a future. There is nothing the horse owner can do, except from trying to live as normally as possible. It was too late the day the horse was born – it is strongly believed to be passed genetically. But for the horses of the future, there is still hope. And for other horses carrying the disease, knowledge about early symptoms can mean the difference between life and death. Hard training and too much pressure on the suspensories can shorten your horse's life dramatically. But we need help funding the research on this rare disease.

Illustration by Sigurd Heill, thank you so much!
DSLD/ESPA is a lethal, probably genetic, systemic disease affecting the connective tissue in horses. The disease is similar to the Ehlers–Danlos syndrome humans can suffer from. Donate to the research by clicking the green PayPal-button!
One of the most known symptoms to DSLD/ESPA, is dropped fetlocks. The condition has originally thought to be a result of overwork or old age, but new research confirms that it is a disease, and it can be found in horses of all ages and in many different breeds, and according to Wikipedia, we have found cases of the disease in the following breeds: Arabians, Thoroughbreds, American Quarter Horses, Morgans, Peruvian Pasos, Paso Finos, American Saddlebreds, several breeds of warmblood, including Swedish Warmbloods, Appaloosas, Canadian, Kentucky Mountain Horse, Friesians, Missouri Fox Trotters, Tennessee Walking Horses, Cleveland Bay, Paints, National Show Horses, and Mustangs, as well as crossbreds, mules and also other breeds.
Only here in Norway the past year I have counted over 30 horses with DSLD/ESPA-looking symptoms.
Symptoms usually starts showing around the age of 10, the disease can stay hidden for years
We don't have any cure, as the disease progresses, the outcome is euthanasia
Horse-owners have managed to keep their horses comfortable retired for up to seven years after diagnosis
Believed to be a genetic disorder
It affects the entire horse, but is usually first shown in the fetlocks. The suspensory ligament become weak/streched and swollen, and lose the elastic feel
Symptoms – what to look for
What separates DSLD/ESPA from suspensory injuries, is the fact that it always appears in either both hind legs, both front legs or all your legs. This is unique to DSLD.
List of symptoms from DSLD-ESPA in the Veterinary Community
Symptoms may vary from case to case and depending on advancement of disease. Lameness can be severe or hardly detectable in early stages. Symptoms can be:
Recurring unexplained lameness
Stumbling and/or tripping
May seem to move around from leg to leg in early stages. After onset will be bilateral
Heat & swelling in fetlock area, may be localized on inside or outside of fetlock, or could be the whole fetlock area
Soreness and pain in suspensory ligament on palpation, especially in the suspensory branches
Enlarged Suspensory ligament and in the suspensory branches. May also be lumpy along suspensory. Some early cases have an affected check ligament
Palpation of suspensory may feel tight and hard like an over stretched guitar string about to snap, or may feel enlarged and mushy/soft
Laying down frequently and trouble getting up, dog sitting before standing
Reluctance to move once up
Back pain/soreness or soreness/stiffness in hips
Digging holes to stand in with toes pointing toward hole
Sitting on fences, buckets, large rocks, leaning against walls to relieve pain
Horse may become irritable, change in attitude
Pasterns flexing horizontal during weight bearing, or maybe upright with no sign of dropped fetlocks
Fluid filled, odd shaped overly large fetlocks
Windpuffs in the fetlock area. May show no lameness at this stage
Extremely loose skin
See a list of other signs that occur before suspensory ligament symptoms here.

The suspensory ligament is affected by DSLD/ESPA. The photo shows a normal, elastic suspensory ligament. 
When the disease progresses, the pain will be constant and the horses will become more coon footed, post legged, bucked at knees and suffer from severe weight loss. Some horses lay down without a chance of getting up. DSLD/ESPA is painful for the horse and pain relief is often needed on a daily basis.
DSLD/ESPA is taking lives, and horses suffering from the condition are used in breeding, because the owners simply don't know better. This results in foals carrying the disease, and so much more unneccesary suffering.
We must spread information, and prevent more cases of the disease. But most importantly, we must support the scientists trying to find a safe way to diagnose horses with the disease. That's the first step! Because today, the diagnosis is given based on the many, and often vague symptoms. We are looking for a genetic marker – so horse owners can do a simple analysis and know if their horse is carrying the disease or not.
DSLD/ESPA is affecting tissue in the entire horse
DSLD/ESPA is often associated with dropped fetlocks. But the fetlocks is only a symptom. The disease affects the entire horse, it is a systemic disorder that involves connective tissue. Connective tissue is tendons and ligaments, tissue that connects organs, but also the membrane that surrounds muscle cells. The problem with DSLD/ESPA affected tissue, is the abnormal accumulation of substances called proteoglycans between the fibers of the affected tissues. Proteoglycans is a protein found between cells, and provides structural support. The horses would not survive without it.
When I started to read long scientific studies about the topic, I felt an instant need for a couple of PhDs. For the ones of us without twenty years of knowledge about pathology, horses suffering from ESPA/DSLD has too much proteoglycans, and therefore, you can see the changes in the tissue when doing a biopsy.
How you and I can stop it: the goal is $ 40,000 USD, if every one of you donate $ 10 USD, we will reach the goal
In the US, three amazing scientists are dedicating much time and effort to find a so called genetic marker. When they find it, it will be much easier for horse owners to send in a sample, and get an answer wether the tests was positive or negative. That can help stopping the disease, because horse-owners will know if their mare or stallion is carrying the disease or not, and therefore avoid breeding.
DSLD/ESPA should be as well known as laminitis in my opinion – and it is affecting so many different breeds! The symptoms usually don't occur before the age of ten, which means that it can come as a huge shock years after you purchased your horse. Horses can be completely healthy, active athletes for years before symptoms arrive.
We have three researchers in the US working on this right now.
Further research is possible with a budget of approx. $ 40,000 USD.
MD (1980) University of Toronto
PhD (1986) University of Minnesota
Diplomate, American Board of Pathology
Professor, Medical Pathologist

Dr. Halper is the woman who did Batman's tissue analysis in Georgia, US.
Professor at The University of Georgia, and her team have found DSLD is a systemic disease characterized by the accumulation of proteoglycans and the presence of at least one abnormal proteoglycan, so called decorin. Proteoglycans regulate the assembly and the composition of connective tissues. The problem with DSLD/ESPA affected tissue, is the abnormal accumulation of proteoglycans between the fibers of the affected tissues. Elevated or abnormal proteoglycans are probably the result of one or more gene defects. Proteoglycans is a protein found between cells, and provides structural support. The horses would not survive without it. Tissues obtained by biopsy from the nuchal (neck) ligament will be analyzed for DSLD. This method is helpful, but it needs to be refined to increase accuracy and reliability.
Professor
Director of Equine Programs
Chief Medical Officer, Large Animal
Director of Continuing Education
The University of Georgia indispensable collaborator of Dr. Halper is a Professor of Large Animal Medicine at the UGA College of Veterinary Medicine. A board certified equine surgeon has joined this endeavor right at its beginning. He diagnoses DSLD through history, physical and ultrasound examinations. He developed the technique of biopsy of the nuchal ligament and is presently refining actual tendon biopsy technique.
Ph.D. Genetics, University of Oklahoma 1982
M.S. Zoology, North Texas State University 1975
B.S. Zoology, North Texas State University 1973
Professor Gus Cothran's Animal Genetics Lab is housed in the Veterinary Medical Research building within the grounds of the College of Veterinary Medicine and Biomedical Sciences on the campus of Texas A&M University. Dr. Cothran is geneticist, he and his team will run DNA sequencing tests in order to identify a marker. Currently, three methods are used to diagnose DSLD: physical examination and palpation of suspensory ligaments, ultrasounds of suspensory ligaments, and nuchal ligament biopsies. When used together, these three methods are fairly reliable, but mild cases slip by. These tests do not help to determine whether the horse is a carrier of DSLD or whether it will develop DSLD later in life.
Frequently asked questions
Feel free to write your questions in the comment field.
Why should I donate?
So we can collect the funds needed to continue the important research on the disease, and hopefully save many lives in the future. The work is expensive, but it is definitely worth it if it can bring us closer to an end to this problem.
How can I be sure the money will go directly to the research?
Elsa Chang and I have been working close with both Halper, Cothran and ICHO. ICHO have donated to this cause before and we are using the same PayPal-campaign this time. The money will be donated directly to research by ICHO.
How much money have been donated so far?
1500 USD on the 15th of January 2017.
If I think my horse has DSLD, what can I do?
Contact your veterinarian.
Can I support you without donating money?
Of course! By sharing this blog post in social media, you are definitely helping us. The most important thing is that this message reaches out to as many people as possible. Please share!
Is it possible to treat DSLD/ESPA, can it be cured?
Today, we have no cure. The result is euthanasia. You can, on the other hand, in some cases keep the horse comfortable.
Why are you involved in this campaign?
Because I know I have a voice and a potential of making a difference. When I discovered this disease, my world fell apart. I was heartbroken and I was sure Batman had it for a long time. It turns now out that it is more likely to be a local exterior problem, but anyway, I feel very personally engaged in the cause because of Batman's history. Our horses mean a lot to us and a hidden disease like this one is the ultimate nightmare.
A very special thanks to the initiators and organizations involved

Elsa Chang/Caballo Clasico, owner of Farsante, a horse suffering from DSLD
Elsa is the woman who took intinative to this fundraiser campaign and has been working day and night to get the message out. I have worked close with her for many months and she is truly a kind-hearted person. Thanks to Elsa, we are able to reach out to a large audience with this important message.
Elsa's Peruvian Paso Farsante is suffering from DSLD. He just turned 8 years old and they have been together for 6,5 years. They got the terrible diagnose last fall. First symptoms were dropped fetlocks and lameness. Since the diagnose, Elsa has been going through a roller coaster of emotions. Even there is no chance of cure for Farsante now, she decided to put all her energy on helping the DSLD Research Fundraising. Farsante is doing well, he is stable now and enjoying his herd life and she hopes the "good phase" will last for a long time.
www.caballo-clasico.de / Instagram caballoclasico

Farsante's was diagnosed with DSLD last autumn.

Elsa Chang and her beloved Farsante.
The International Curly Horse Organization ICHO
The fundraiser campaign goes through ICHO's DSLD-donation intinative.
www.ichocurlyhorses.com
Dr. Halper, for helping me with Batman's biopsy
My team of vets here in Norway received great help and assistance from Dr. Halper from the other side of the world via email and phone, after Batman's visits to the clinic. I'm forever grateful!
www.vet.uga.edu
Sources: www.doctorramey.com, www.thehorse.com's update article, www.thehorse.com's diagnostic test-article, www.dsld-vet.blogspot.no, The UGA College of Veterinary Medicine's Large Animal Medicine department, Horse-Pro's article about DSLD/ESPA, The DSLD Equine Disease Information and Support Facebook page and the researchers and professors working on the case.